Launch X431 V+ with HD3 Module CarTruck List
Launch X431 V+ with HD3 Module is an universal Bi-Directional Diagnostic Scanner for all cars and all trucks buses, Machinery, Engine, New Energy etc. This article is available with Launch X431 V+ car and truck list.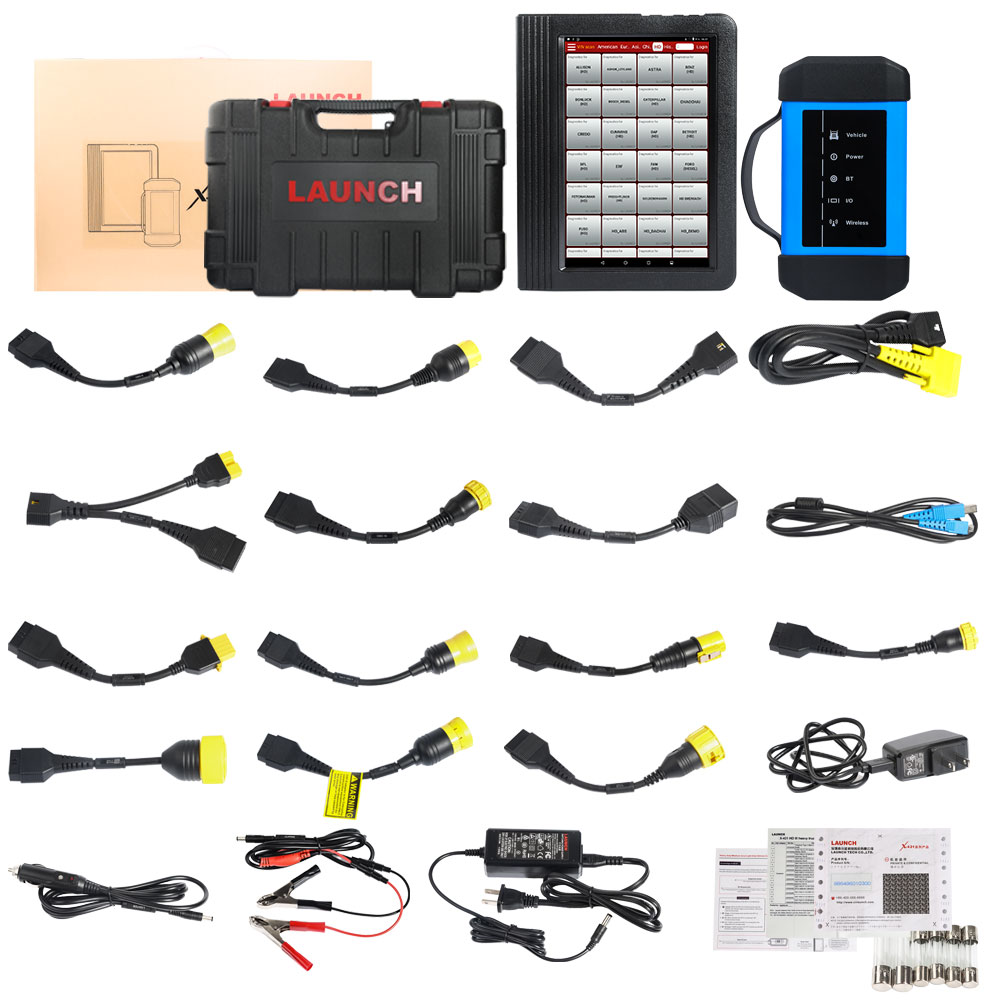 Launch X431 V+ vehicle coverage inquiry: http://qcar.x431.com/qcar/#/pc/index
There are Passenger vehicle and Commercial vehicle list, you can enter your brand name to search, you can view all models, you can select the capital to view.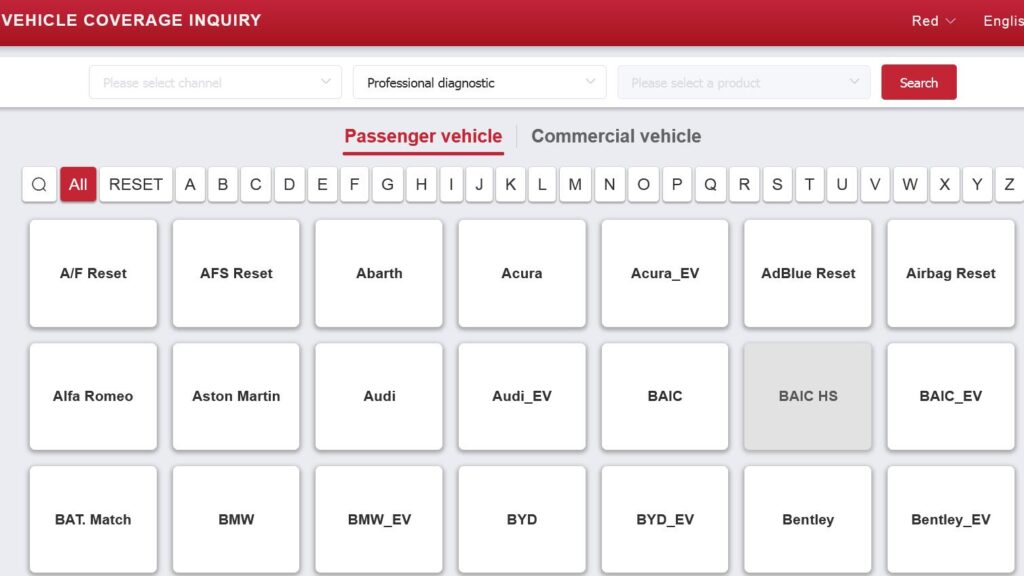 Then X431 V+ Software List:
| | | |
| --- | --- | --- |
| No. | Software Name | Code |
| 1 |  X431, USA FORD Diagnostic Software diesel |  X109023737 |
| 2 |  After the X431, heavy card processing system diagnostics software |  X109023578 |
| 3 |  ASTRA diagnostic software |  X109020875 |
| 4 |  Benz heavyduty diagnostic software |  X109020609 |
| 5 |  Bosch diesel diagnostic software |  X109020750 |
| 6 |  BREMACH diagnostic software |  X109020876 |
| 7 |  China heavyduty diagnostic Software |  X109020831 |
| 8 |  Cummins heavyduty diagnostic software |  X109020611 |
| 9 |  DAF diagnostic software |  X109020827 |
| 10 |  ERF diagnostic software |  X109020980 |
| 11 |  FAW Liberation diagnostic software |  X109020828 |
| 12 |  Foton Auman diagnostic software |  X109020856 |
| 13 |  FUSO diagnostic software |  X109020874 |
| 14 |  Hino diagnostic software |  X109020926 |
| 15 |  Hyundai heavyduty diagnostic software |  X109020830 |
| 16 |  Isuzu heavyduty diagnostic software |  X109020612 |
| 17 |  Iveco heavyduty diagnostic software |  X109020614 |
| 18 |  JAC heavyduty diagnostic software |  X109020858 |
| 19 |  Mack heavyduty diagnostic software |  X109022648 |
| 20 |  MAN diagnostic software |  X109020838 |
| 21 |  OBD heavyduty diagnostic software |  X109020613 |
| 22 |  SCANIA diagnostic software |  X109020873 |
| 23 |  Shangchai diagnostic software |  X109020760 |
| 24 |  Volvo heavyduty diagnostic software |  X109020610 |
| 25 |  WP diesel diagnostic software |  X109022656 |
| 26 |  X431, Airbus diagnostic software |  X109023030 |
| 27 |  X431, ALLISON transmission box diagnosis software |  X109022055 |
| 28 |  X431, Ashok Rejlander the diagnostic software |  X109023442 |
| 29 |  X431, Caterpillar heavy vehicles Diagnostic Software |  X109023660 |
| 30 |  X431, Chai heavy vehicle diagnostic software |  X109022916 |
| 31 |  X431, Chaoyang Diesel diagnostic software |  X109021439 |
| 32 |  X431, construction machinery diagnostic software |  X109021203 |
| 33 |  X431, CREDO heavy vehicle diagnostic software |  X109021363 |
| 34 |  X431, DETROIT engine diagnostic software |  X109022057 |
| 35 |  X431, Dongfeng commercial vehicle diagnostic software |  X109021436 |
| 36 |  X-431, Dongfeng Yufeng diagnostic software |  X109021497 |
| 37 |  X431, Freightliner heavy-duty truck diagnostic software |  X109020867 |
| 38 |  X431, full diesel diagnosis software |  X109021492 |
| 39 |  X431, HD ABS system diagnostic software |  X109023557 |
| 40 |  X431, hd_goldendragon diagnostic software |  X109023028 |
| 41 |  X431, hd_international vehicle diagnostic software |  X109022898 |
| 42 |  X431, HD_TATA diagnostic software |  X109023808 |
| 43 |  X431, hd_western_star vehicle diagnostic software |  X109022899 |
| 44 |  X431, heavy truck presentation software |  X109023652 |
| 45 |  X431, heavy vehicles Jiangling diagnostic software |  X109023625 |
| 46 |  X431, IRISBUS heavy vehicle diagnostic software |  X109021293 |
| 47 |  X431, IRIZAR heavy vehicle diagnostic software |  X109021292 |
| 48 |  X431, NEOPLAN heavy vehicle diagnostic software |  X109021291 |
| 49 |  X431, Renault diagnostic software for heavy vehicles |  X109020839 |
| 50 |  X431, SETRA heavy vehicle diagnostic software |  X109021289 |
| 51 |  X431, SITCAR heavy vehicle diagnostic software |  X109021290 |
| 52 |  X431, Stannic bavin diagnostic software |  X109021441 |
| 53 |  X431, Sterling heavy vehicle diagnostic software |  X109022897 |
| 54 |  X431, Sunlong bus ( SUNLONG ) diagnostic software |  X109022696 |
| 55 |  X431, sunwin bus ( SUNWIN ) diagnostic software |  X109022697 |
| 56 |  X431, UD Trucks 2F Nissan Diesel Diagnostic Software |  X109021018 |
| 57 |  X431, Yang Chai engine diagnostic software |  X109023543 |
| 58 |  X431, Zhongtong bus ( ZHONGTONG BUS ) diagnostic software |  X109022705 |
| 59 |  X431,BONLUCK diagnostic software |  X109021709 |
| 60 |  X431,HD_KENWORTH deagnostic software |  X109022888 |
| 61 |  Yuchai diagnostic software |  X109020747 |