

Tag Flash ECU Programmer BENCH / OBD / BOOT / BDM / JTAG mode Full reading
Last items in stock
Tag Flash ECU Programmer BENCH / OBD / BOOT / BDM / JTAG mode Full reading
Security policy

(edit with the Customer Reassurance module)

Delivery policy

(edit with the Customer Reassurance module)

Fast Delivery

(edit with the Customer Reassurance module)
Tag Flash ECU Programmer BENCH / OBD / BOOT / BDM / JTAG mode Full reading
Product Description
TagFlash ECU programmer supports BENCH / OBD / BOOT / BDM / JTAG mode Full reading (MICROEEROM), covering 99% brand of car in the market, ECU read/write ok.
Reliable for checksum calculations. Easy to install and use by anyone. Time synchronization is no need.
[EU Ship] TagFlash ECU Programmer BENCH / OBD / BOOT / BDM / JTAG mode Full reading (MICROEEROM)
What is TagFlash?
TagFlash is a powerful ECU Programmer that enables the reading and programming of engine control units (ECUs) for various
cars, trucks, motorcycles, tractor, Marine
worldwide from Europe, USA, India, Asia, China etc. It reads and writes EEPROM and flash memory of ECUs i.e Bosch, Marelli, Siemens, Ford, Delphi, Denso, Transtron, Delco, Continental,Motorola, Valeo, Siemens Continental etc. TagFlash read/write ECU in the mode of
OBD, on Bench, Boot mode, BDM, and Jtag systems
. Its versatility and broad compatibility make it a valuable tool for automotive technicians and enthusiasts.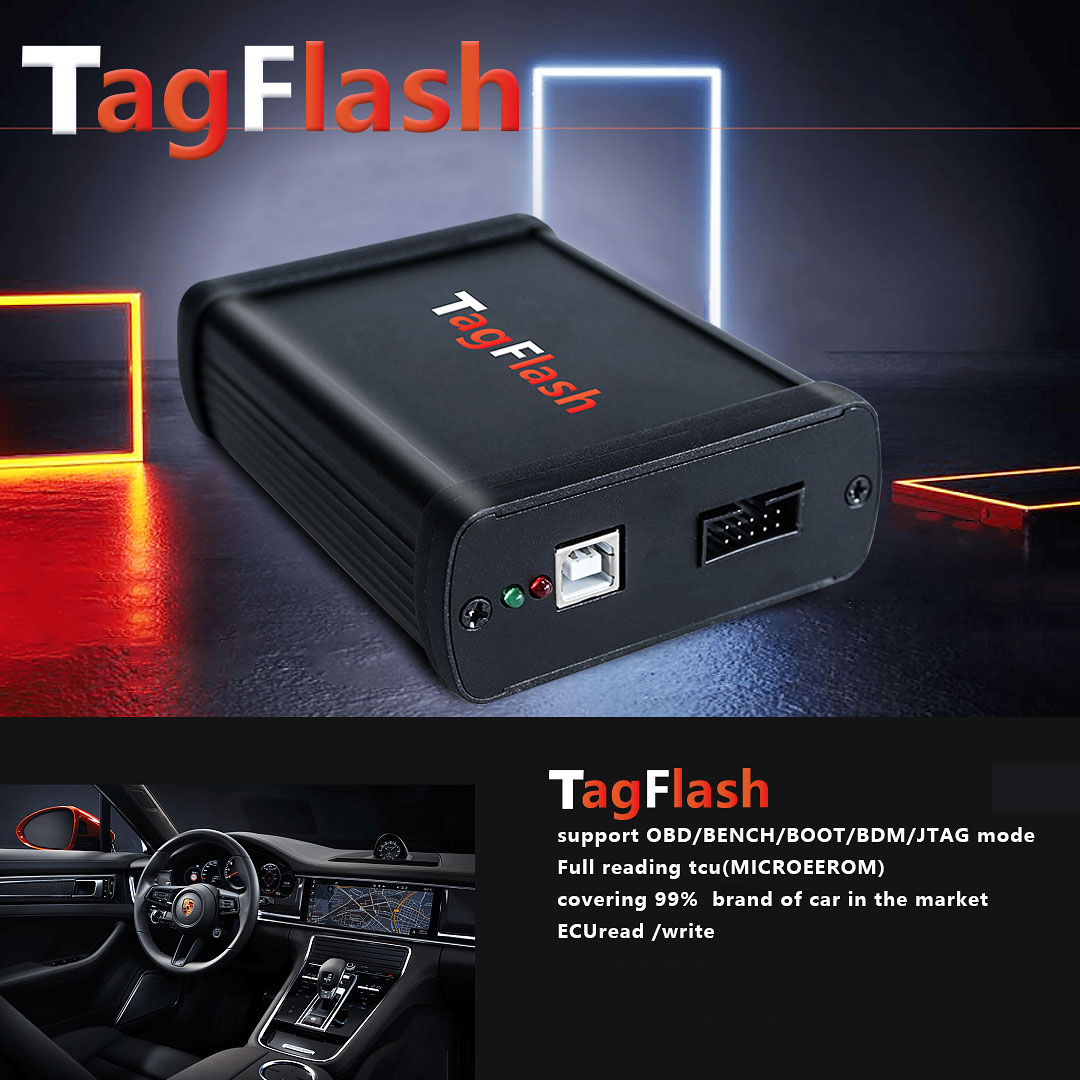 Also, ECUHELPshop provide the following service:
DTC code Removal, EGR & DPF Removal, IMMO OFF, releasing speed limit, mileage correction, Hot start or Cold Start Vmax, and so on.
TagFlash Highlights:
1. This new system developed with high-speed USB2.0 currently the fastest and safest production in the market.
2. It is easy to install and use by anyone.
3. The Driver will always be clickable, the options will not become gray.
4. Time synchronization is no need, it allows for some margin of error.
5. On bench mode, directly identify the chip type before reading/writing .
6. Stable to read / write eeprom & flash via OBD.
7. Checksum calculations: Reliable and Faster
8. Add speed limit off.
9. It is relatively up to date that the protocol is synchronized to the original tools.
10. It is not easy to damage the ecu. It can work directly if it can be written; if it cannot be written, it won't be possible from the beginning.
11.There is no need to restart the software when the software reports an error, and there is a direct reset function in the option.
12.
Support working in offline mode.
13.
Synchronize Agreements Until April 1st, 2023
14.
Stability/Comprehensive: Yes
15. Own Servers in Multiple countries
·5/30V Car, Industrial vehicles, WP
·Boot Mode C167,ST10
·RS232 RS485
·CAN BUS V2.0 50 Kb>10 Nkb
·J1850 VPW PWM GM-FORD
·BDM MPC5XX
·BOOT MODE TRICORE
·Auto setup Pull up K-ine 250,500,1000 ohm
·Auto setup termination Can bus 0,60,120ohm
·Master
·Recovery mode
·Checksum automatic
TagFlash Compatible Vehicles:
Car
Truck
Tractor/Marine
Motorbike
Read / Write ECU
Read /Write TCU (DQ200 only)
TagFlash ECU List:
Please refer to the attachments of Cars / Trucks / Marine / Tractor / Motorbike Support Lists.
TagFlash supports only TCU DQ200. For a broader TCU list, purchase ECUHELP KT200, which supports over 500
->>Maybe you are interested in
Lextoyo Toyota Lexus BDM Solder-Free Adapter
, no soldering needed when using TagFlash to read/write Toyota Lexus ECU in BDM/Jtag mode.
TagFlash ECU Reading /Writting Method:
BENCH / OBD / BOOT / BDM / JTAG mode
Communication:
TagFlash run with internet connection or with offline dongle.
Free Download
TagFlash Software Offline & TagFlash Software Online
.
*** Important Note ***
You MUST
disable your anti-virus and firewall
in order to download the software, driver and updates. Any active anti-virus will try to delete the files as it does not recognize the file as safe. They are safe but because of language issue it is often seen as a virus and it will delete your files. YOU MUST DISABLE YOUR ANTI-VIRUS AND FIREWALL or you will not be able to download the software properly.
TagFlash Compatible Operation System:
Windows XP 32 64 bit
Windows Vista 32 64 bit
Windows 7 32 64 bit
Windows 8
Windows10
TagFlash Language:
Ltaliano, English, Deutsch, Francais, Espanol, Polish, Portugues, Czech, Romana, Turkish, Hungarian, Russian, Bulgarian, Chinese, Japanese, Korean and Serbian
TagFlash Update:
Free update
Annual Subscription:
No need
TagFlash is confirmed to read/write ECU on many ECU types such as:
DCM2.7AP yes
DCM2.7 yes
DCM3.7AP Hyundai Read ok via OBD, via Can bus.
MD1CS018 Yes: choose the chip type spc58 to read/write
sid208-sid209 read write on bench ok.
dcm7.1b can read via obd ok
dcm6.2v read via obd no problem
VOLVO EMS 2.2 Read OK with Tag Flash Waiting mod file to write in ....
MD1cs089 read/write no problem (after 2020 year, not ok)
Denso NEC76F0085 working
Edc16u1 written and read ok check correction obd.
SID310 MB written and read well.
DELPHI MPC555 READ no problem, for FORD / Ssangyong
Mitsubishi 4D56 RA6 ECU Read ok-- data checked,same with other tools read out.
MITSUBISHI 4D56, Denso RHF4A ecu read / write good, Perform EGR off.
SID807,SID208,SID209 read/write on Bench, boot, OBD.
MCM2.1 working well
dcm6.2v vag bootmod for cloning, Dcm6.2a possible too.
Phoenix L12 Caan Bus read ok.
Isuzu Dmax 2007 with Delphi ECU can read write by Can bus.
Toyota 89661-58130 for Vellfire Denso 175035-4520 with 76F0038AGD read/write ok, perform decat function fast & Stable.
DELPHI DMCI 3 socket type DAF HYUNDAI UD TRUCK READ OK-WRITE OK
Mercedes Benz MED17.7.3 BENCH MODE READ OK BENCH TRICOR3 SAK1797 awaiting stage 1 tune
PCR2.1 unlock obd only by vr file, please note that.
EDC16 UC40 fitted in Deutz, Kobelco etc. Read/write ok with TagFlash. Clone ECU as old one internal damaged, transfer data from old to new ECU.
Tagflash can read/write sdi8.
EMS2.2 yes.
TagFlash is not able to read/write:
Sim2k260 NO
DCM7.1AP No
Take Care of This:
When using TagFlash to read/write ECU
via OBD
, must plug
Mini Gender Adapter.
Mini Gender Adapter is the yellow Adapter which comes in package (shown as below).
For OBD mode, use the Gender Adapter that cuts pins 3,8,9,11. This is essential for programming and reading via OBD. Using TagFlash in the car without the Gender Adapter, you risk to blow-up your adapter.
For BDM or JTAG mode, connect directly without the Gender Adapter.
Select "driver", then "Next", then it will pop up this message telling to connect gender adapter to the OBDII cable.
Look at the screen of TagFlash Software:
Available with options: Car, Truck, Tractor/Marine, Motorbike, Full Mode, Recondition (remove speed), Tool Boot, Bench Mode,BDM/JTAG.
TagFlash Car ECU Reading/Writing Options:




Reading DCM2.7AP:
TagFlash Questions and Answers:
Q: I can install in same pc.. Together with Kt200? Or we need Kt200 uninstall..?
A: Yes, you can install both TagFlash and KT200 in same PC, but need to switch the driver.
Q: Does TagFlash support online VR reading/writing?
A: not support yet, will be available in the near future.
Q: Does TagFlash offline mode need one extra offline dongle?
A: yes, it needs.
Tagflash works both online mode and offline mode.
Q: Will TagFlash be connected to the computer when installing the driver?
A: yes, it needs.
Q: Can TagFlash be installed on multiple computers?
A: Yes, no problem.
Q: Does TagFlash suppport ECU clone?
A: Support only a little ECU clone, advise
PCMtuner
or
67in1 PCMtool
to clone ECU.
Q: Does TagFlash support renesas Toyota?
A: Yes.
Q: Can i write the modified Software write on edc17 with TagFlash?
A: Yes
Q: Does tagflash read/write dcm7.24?
A: No, thanks.
Q: BOSCH EDC17C10 CAN BUS (WRITE ONLY) PETROL 1.2 THP 110HP VALEO VD46.1 CAN BUS 2.2 16V HDI E4 156HP,Write only, it's what mode Can bus, Mode obd or mode bench?
A: Write only means please read/write it in another way, or write VR files. take Renesas for example, it read in Jtag/BDM mode, then write in Boot mode.
No customer reviews for the moment.