

Out-of-Stock
AUTOOL CT200 Injector Ultrasonic Cleaner & Tester For Automobiles And Motorcycles + 6 motorcycle fuel injector connectors
Security policy

(edit with the Customer Reassurance module)

Delivery policy

(edit with the Customer Reassurance module)

Fast Delivery

(edit with the Customer Reassurance module)
AUTOOL CT200 Injector Ultrasonic Cleaner
Support For 99% Car Model
Support for Audi, Australia d, Benz, BMW, Brilliance, Chevrolet, Chevy, Chrysler, Citroen, Dacia, Dadi, Daewo, Daihatsu, Demo, Fiat, d, GM, Holden, Honda, Hyundai, Isuzu, Jaguar, Kia, Lancia, Land Rover, Mahindra, Maruti, Mazda, Mitsubish, Nissan, Opel, Peugeot, Porsche, Renault, Romeo, Rover, Saab, Seat, Skoda, Smart, Subaru, Suzuki, Tata, Toyota, Volvo, VW, Yamaha.
About Machine Details
The AUTOOL CT200 injector cleaning and testing machine is designed with wide voltage technology and is suitable for 110V and 220V voltage. It is combined with ultrasonic cleaning technology and microprocessor hydraulic control cleaning detection technology.  Fuel pump oil supply simulates low, medium and high engine conditions, cleaning and testing the fuel injectors of the automobile.Ultrasonic cleaning can simultaneously clean multiple injectors, which can effectively and completely remove carbon deposit for the automobiles injectors.
English manual & English control panel;
Power cord:110V and 220V;
3 Years Warranty.
AUTOOL Fuel Injector Cleaner Comparison Table: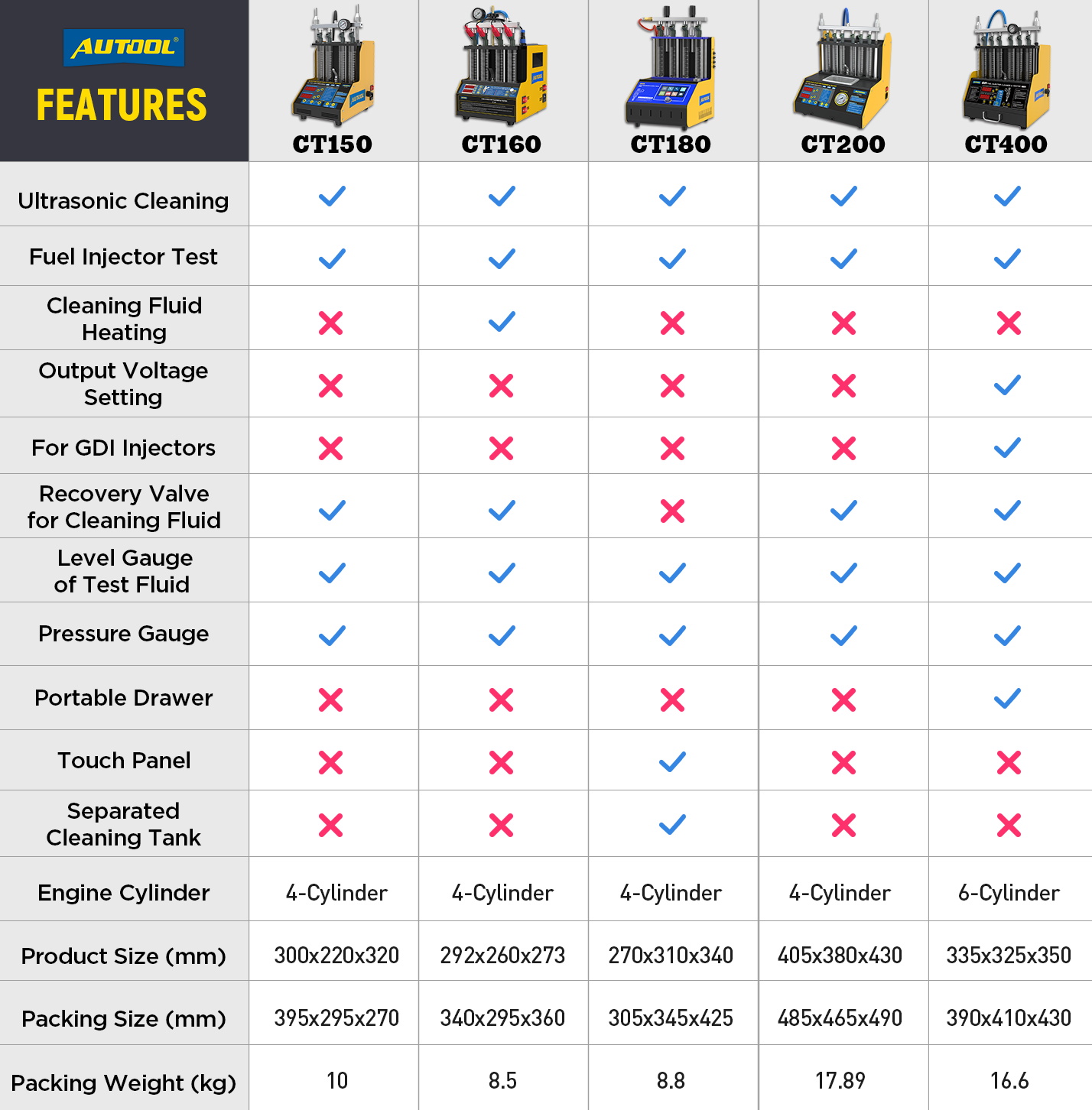 Note:
Injector cleaning agent test liquid and cleaning agent precautions:
1.It is forbidden to use corrosive liquids as fuel injection nozzle detection liquid to detect fuel injection nozzles. Corrosive liquids will damage machine seals and fuel injectors;
2.It is forbidden to use a cleaning agent instead of the detection liquid, because the cleaning agent is generally corrosive and will cause damage to equipment and injector seals;
3.It is forbidden to use gasoline instead of cleaning agent or test liquid, which is dangerous and easy to cause safety hazards;
4.Please use absolute ethanol (industrial alcohol) or other non-corrosive liquids as the detection liquid (generally the detection liquids are colorless and transparent, no irritating odor liquid);
What is a cleaning agent?
The cleaning agent is used to clean the attachments (carbon deposits) on the fuel injection nozzle. It is generally highly corrosive and flammable. It should be kept away from the fire source and avoid contact with the skin when used. Use it in the ultrasonic cleaning tank of the injector cleaner;
What is a test solution?
The test liquid is used to test and judge the quality of the fuel injection nozzle. It is a colorless and transparent liquid with no irritating odor, non-corrosiveness, and not easy to emit, but used in the measuring cylinder of the fuel nozzle cleaning machine;
why have to clean injector?
When we turned off the engine suddenly, the gasoline which have been spray out can not be recycled. It would attached on the injector and combustion chamber walls. Gasoline is easy to volatile, but wax and varnish were stayed. Heat these wax and varnish day after day,they will be changed into hard coke. The hard coke will be produced more quickly and more thickly when engine work with poor quality fuel.
Tips: Do not get any cleaning solvent on the outside of the vehicle, as this will damage the paint. A heavily clogged fuel injector may not allow enough cleaner to pass through during a routine cleaning to be adequately cleaned. Additional cleanings may be needed to clear heavy deposits.
How to Work ?
1. Clean injector's outside with gasoline or cleaning liquid before open machine.
2. Putting injectors in ultrasonic bathtub after the outside of injector are free of dirt.
3. Turn on ultrasonic system,pulsed allowing the ultrasonic energy to dislodge any particles even build-up inside the injectors.
4. Fixed injectors on main machine
5. Testing injectors for resistance, shorts, and current draw
6. Performing leak test, spray pattern, and flow rate testing on flow bench.
7. The injectors are now returned to the flow bench for retesting of all functions.
No customer reviews for the moment.