

Autel MaxiIM IMKPAK Key Programming Adapter Kit Compatible with XP400Pro Working for IM608 Pro, IM608 and IM508 with XP400Pro
Security policy

(edit with the Customer Reassurance module)

Delivery policy

(edit with the Customer Reassurance module)

Fast Delivery

(edit with the Customer Reassurance module)
Autel IMKPA Key Programming Adapter Kit
Autel IMKPA is a Key Programming Adapter Kit, compatible with the XP400Pro Key & Chip Programmer. Includes 12 adapters for the XP400Pro that enable Read/Write/Erase for Mercedes Benz ESL_W209 / W906 Data, Mercedes Benz NEC Key Learning, BMW EWS3 Key Learning and. Volkswagen/AUDI/BMW/Benz Key Unlock. Compatible with the IM608 Pro, IM608 and IM508 with XP400Pro.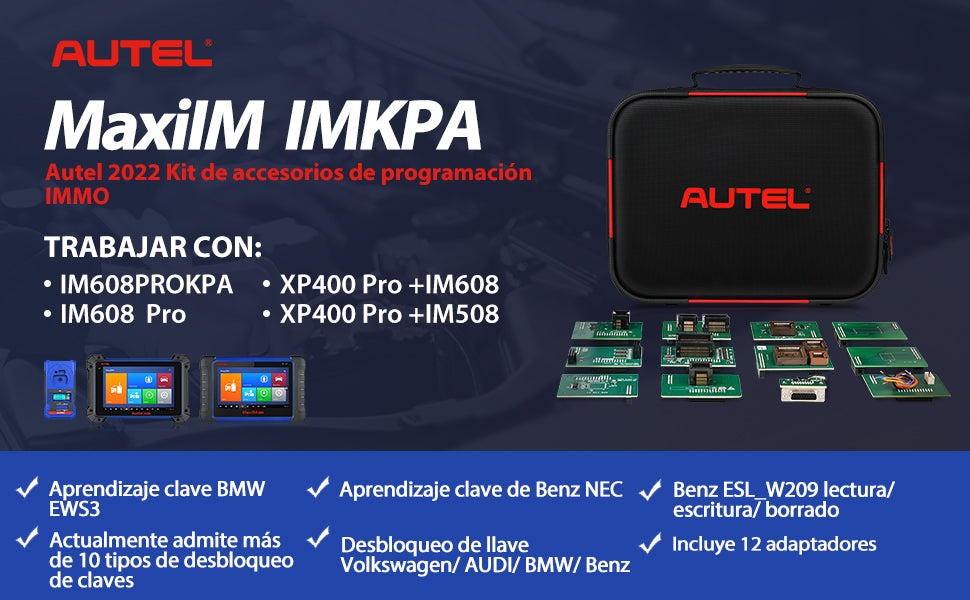 Enhanced IMMO Functions for BMW/Mercedes Benz/Audi/VW
MaxiIM Key Programming Adapter Kit Includes 12 Adapters, Compatible with the XP400Pro
Enables Read / Write/Erase on Mercedes Benz ESL_W209 / W906 Data
Enables Mercedes Benz OE NEC Key Learning
Enables BMW EWS3 Key Learning
Enables Volkswagen / AUDI / BMW /Mercedes Benz Key Unlock
Compatible with IM608 Tablet and IM508 Tablet with XP400Pro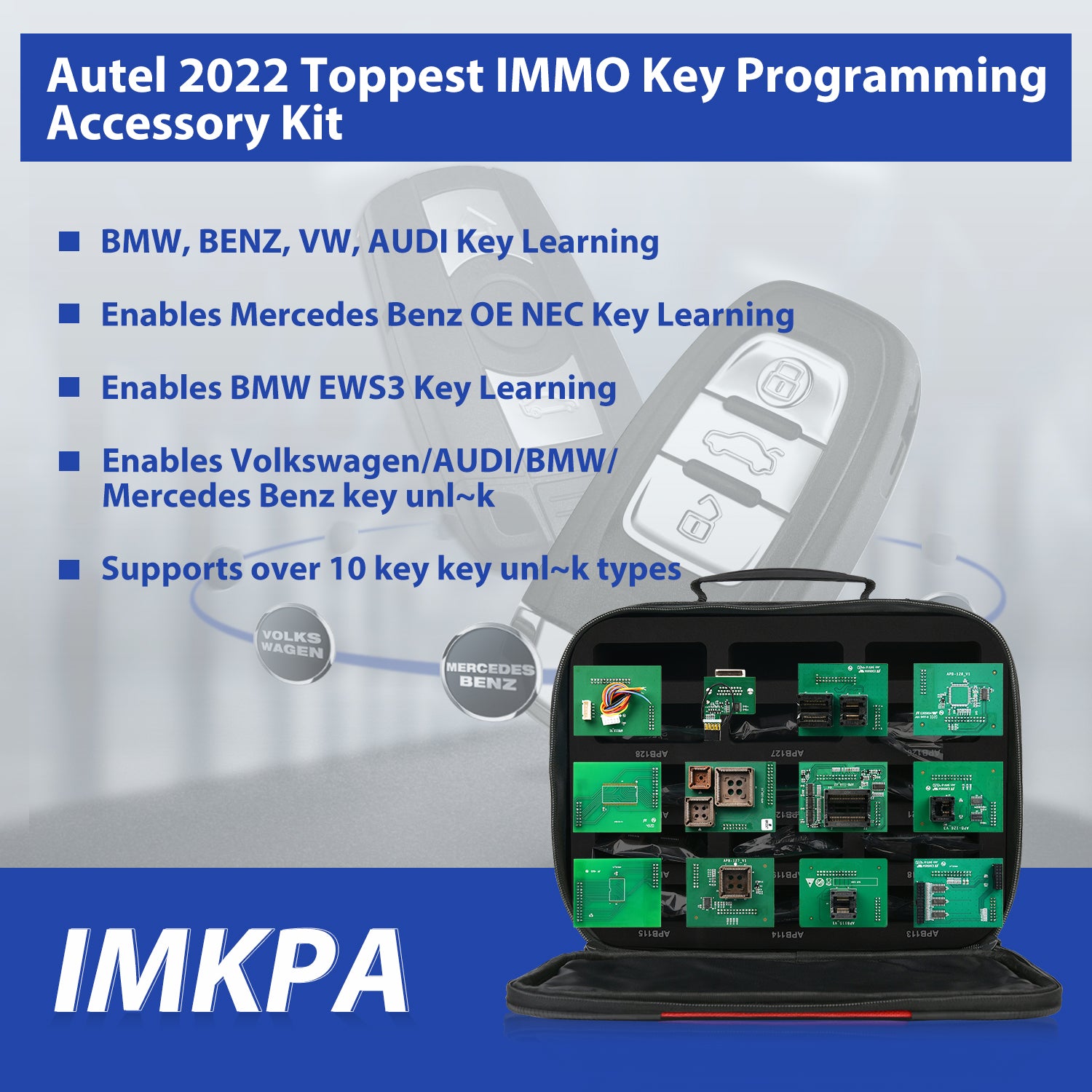 Autel MaxiIM IMKPA Compatibility
Autel IMKPA Works with IM508+XP400 Pro/ IM608+XP400 Pro/ IM608 Pro/ IM608PROKPA to enhance the IMMO functions for BENZ/ BMW/ Audi/ VW, etc.
IMKPA Kit Package List:
1pc x APB113
1pc x APB114
1pc x APB115
1pc x APB118
1pc x APB119
1pc x APB120
1pc x APB121
1pc x APB122
1pc x APB123
1pc x APB126
1pc x APB127
1pc x APB128
1pc x Storage Case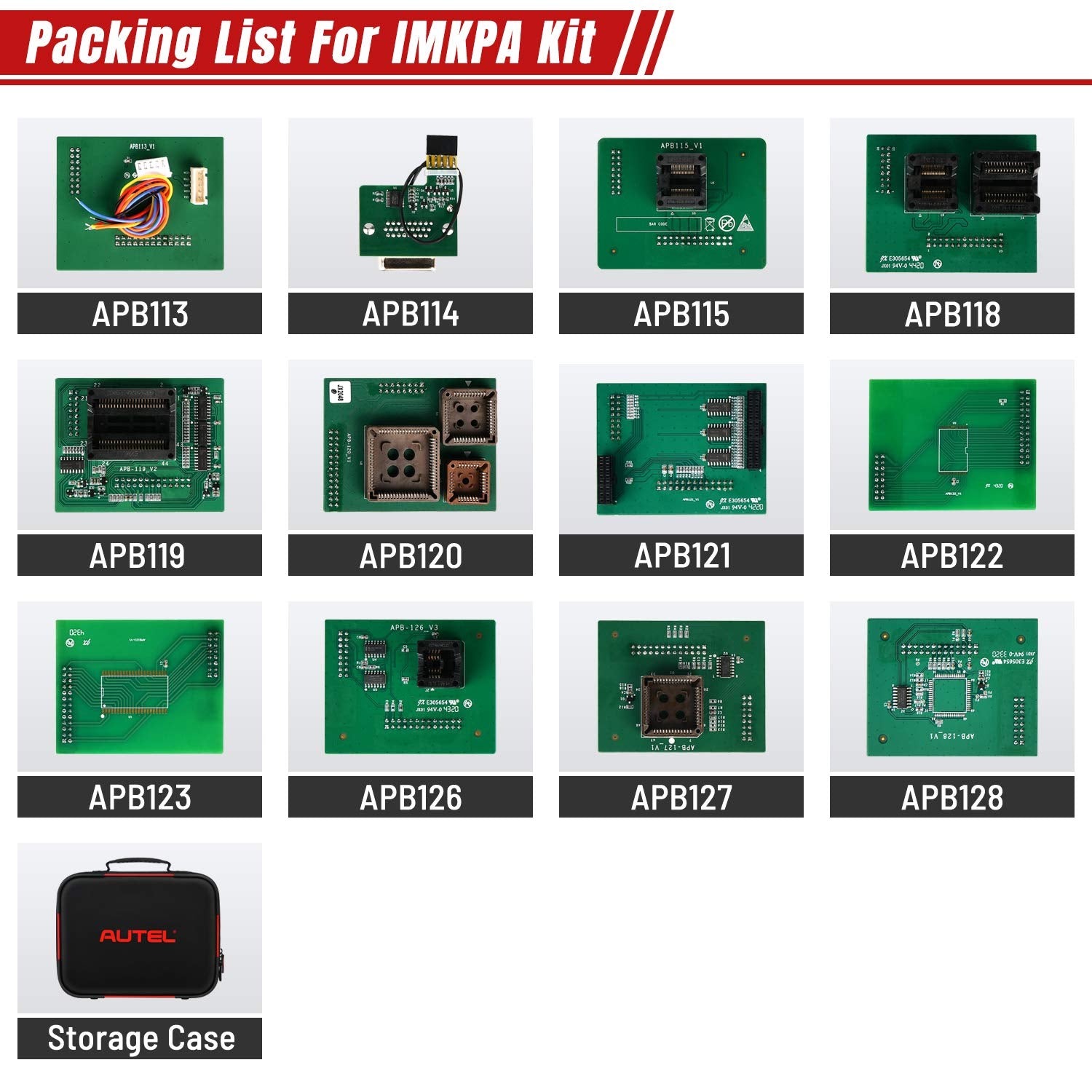 No customer reviews for the moment.