

the new LAUNCH heavy Duty module is perfect for a shop that works on heavy duty (calss 4 through 8) and medium trucks. X-431 HD III An intelligent VCI (Vehicle Communication Interface) for cars and trucks from 12V to 24V, supports USB, Bluetooth, and WiFi connection. It has more powerful functions to be discovered by working with X-431 PAD V, X-431 PAD III and X-431 PRO3.
Security policy

(edit with the Customer Reassurance module)

Delivery policy

(edit with the Customer Reassurance module)

Fast Delivery

(edit with the Customer Reassurance module)
X-431 HD III Heavy Duty Module
Launch X431 HD3 Ultimate Heavy Duty Truck Diagnostic Adapter

LAUNCH X431 HD3 is Ultimate Heavy Duty Truck Diagnostic Adapter. With full comprehensive diagnostic software function, it's the most convenient and easy to scan and diagnose vehicle. It supports wireless Bluetooth diagnosis for various car models. Work with X431 V+ , X431 PRO3, X431 PAD II and X431 PAD III scanners together, it support trucks and commercial vehicles.

With this device you can test heavy duty truck 24V. Connections via USB and Bluetooth. The package also includes the necessary additional adapters.


Launch X431 HD3 Features:

1. Full comprehensive HD truck diagnostic software functions
2. Wide diagnostic software coverage
3. Accurate test data
4. Release new software version timely to let customers enjoy latest service
5. Able to test truck with 12V or 24V battery diesel engine. When testing 24V truck, battery conversion is not required
6. Diagnostic hardware is designed according to international standard, compatible with diagnostic interfaces of worldwide models
7. Including wide-range connector and cable
8. Supported brands:Benz,Man,Volvo,Daf,Scania,Iveco,Renault,Freightliner,International,Mack,Fuso,Isuzu,UD, etc.

Launch X431 HD3 Functions

Identification of control units
Adaptation of control units
Reset service intervals
Reading vehicle data streams
Display of current system parameters
Check actuators
Reading and erasing vehicle fault codes

Launch X431 HD3 Benefits

36 brands of foreign trucks with the possibility of expanding the supported brands
indicators showing the status of the connection in real time
IP65 protection
shockproof case.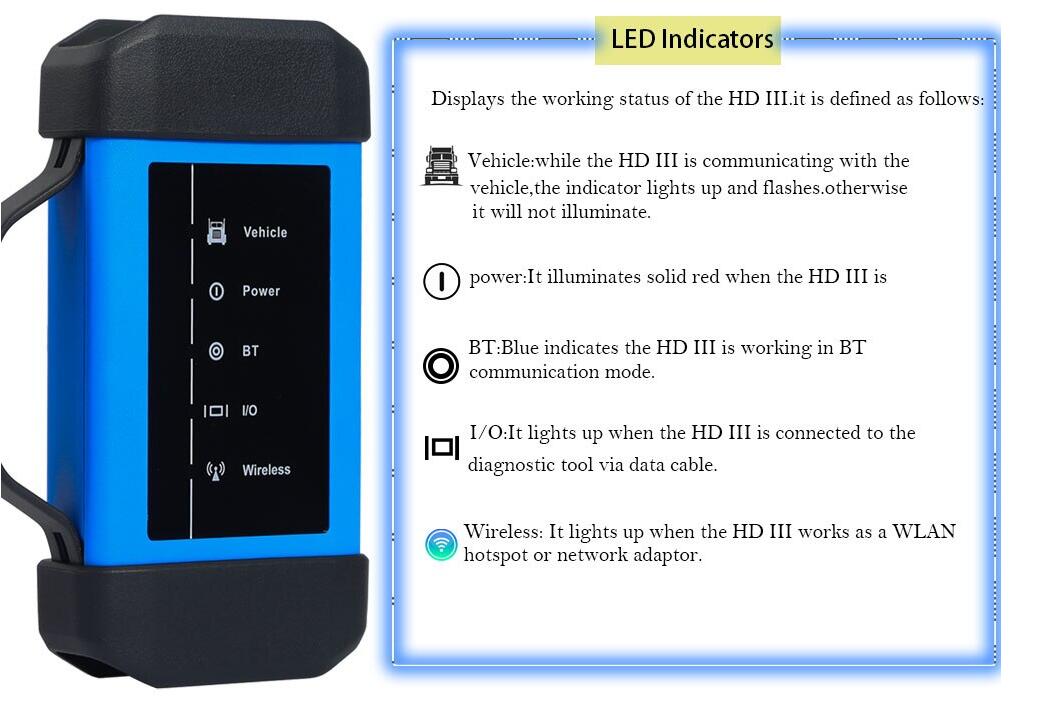 Launch X431 HD3 Supported heavy duty vehicle list: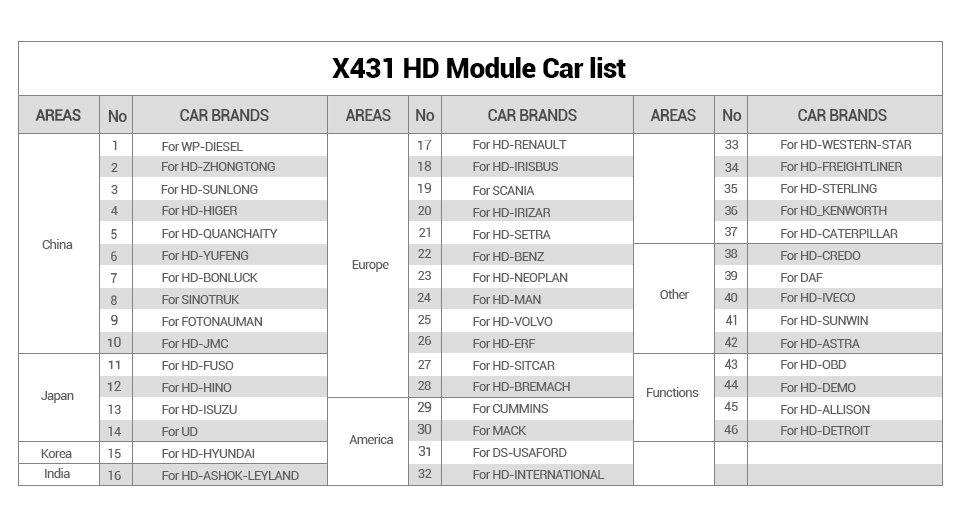 Europe:
MERCEDES BENZ
MAN
VOLVO
SCANIA
IVECO
DAF
RENAULT

U.S:
Freightliner
INTERNATIONAL
Kenworth
PETERBILT
STERLING
WESTERN STAR
MACK
DETROIT
CUMMINS

Asia:
HINO
FUSO
ISUZU
UD
HYUNDAI

Launch X431 HD3 Diagnostic system:
Engine Diagnosis:
support Chaochai, Dachai, Laiyang Power, Quanchai, Shangchai, Weichai, Xichai, Yangchai, Yuchai, Yunnei Power, Cummins, Xinchen Power, Chaochai Xinfeng, Great Wall Xinfeng, Doosan, Huayuan Lai, Platinum, Isuzu and other engine systems;

Natural Gas Diagnosis:
support Cummins natural gas, Nanchong natural gas, Shangchai natural gas, Weichai natural gas, Xichai natural gas, Iveco natural gas, Yuchai natural gas, heavy gas natural gas, Chaochai natural gas, Yunzhong natural gas system, etc.;

Post-Processing Diagnosis:
support Guangxi Sanli tail gas post-treatment, Tenneco post-treatment, Kailong post-treatment, Tianlan DCU, Bosch post-processing system diagnosis, etc.

Calibration Function:
support Chaochai calibration, Dongfeng Renault calibration, Cummins calibration, Shangchai calibration, Weichai calibration, Xichai calibration, Yuchai calibration, heavy truck calibration, Yangchai calibration, etc.;

ECU Brush Writing:
support Bosch ECU brush writing, Nanyue single pump ECU brush writing, Bosch bottom layer brush writing, natural gas ECU brush writing, electric ECU brush writing, Delphi ECU brush writing, China National Heavy Duty Truck ECU brush writing, Tenneco DCU Wait;

ABS System:
WABCO ABS, Delphi ABS, Knorr ABS, Bosch ABS, Komi ABS, Localized ABS (liberation), Wanan ABS, SABS, Asia Pacific ABS, Hongding ABS, Wanan ABS (liberation), Yuan Feng Qingqi ABS, Wanan Qingqi ABS, Ford ABS, Wandu ABS, Jingxi Heavy Industry ABS, etc.;

Construction Machinery:
Supports dozens of engineering machinery vehicle system diagnostics.

Launch X431 HD3 Specifications:

CPU: 1.4GHz quad core
Operating system: Android 7.1
Memory: 2G
Storage: 16GB, support 128G expansion
Display: 10.1-inch capacitive screen
Screen resolution: 1280×800
Camera: 5 million pixels behind
Weight: about 0.50 kg
Size: 264x210x30 (mm)
Working temperature: -10 ° C ~ 50 ° C

Diagnostic box parameters
CPU: 120MHz
Power consumption: ≤3W
Working voltage: DC 9-36V
Working temperature: -10 ° C ~ 50 ° C
Communication method: USB+Wi-Fi+Bluetooth
Size: 204x110x45 (mm)


Launch X431 HD3 Packing List:

Launch X431 HD3 Packing List:
1 pc x Launch X431 HD3
1 pc x AC Power Adapter
1 pc x Diagnostic Cable
3 pc x Data Cables
1 pc x Cigarette Lighter Cable
1 pc x Battery Clamps Cable
1 pc x IVEO-38 Adaptor
1 pc x Hyundai-16 Adaptor
1 pc x OBD-6 Adaptor
1 pc x Benz-14 Adapter
1 pc x Volvo-8 Adapter
1 pc x Mitsubishi-12+6 Adapter
1 pc x Renault-12 Adaptor
1 pc x OBD-16 Adaptor
1 pc x Type II OBD-9 Adaptor
1 pc x CAT-9 Adaptor
1 pc x MAN-37 Adaptor
1 pc x IVECO-30 Adaptor
1 pc x MAN-12 AdaptorFi
CPU: 120MHz
Size: 204X110X45 mm
No customer reviews for the moment.