

Jaltest CV MODULAR LIGHT VEHICLE
* Must BuyJaltest Link V9 before buy it
Security policy

(edit with the Customer Reassurance module)

Delivery policy

(edit with the Customer Reassurance module)

Fast Delivery

(edit with the Customer Reassurance module)
Jaltest CV MODULAR LIGHT VEHICLE
JALTEST

LIGHT VEHICLE

MODULAR

- Software activation
Jaltest CV stands as a benchmark in the commercial vehicle repair sector due to its great advantages and possibilities when it comes to carry out diagnostics and maintenance services in an efficient way in trucks, buses, trailers, light commercial vehicles and pickup trucks.
It offers complete coverage, including new, brands, models and systems three times a year, which guarantees a constant update of its capabilities.
More Than Diagnostics
______________________
// Troubleshooting guide by error code
// System Technical Data
// Diagrams
// Vehicle Technical Data
// Vehicle maintenance data
// Troubleshooting guides by symptoms
// Releases and Procedures
// Repair times.
// Manual Diagnosis
Software with easy, intuitive and visual navigation
______________________
// Visual and intuitive
// Quick installation and use
// Customisable
// All in one screen
// Elegant design with brighter colours
JALTEST INFO
Obtain all the additional information through this module and speed up the repair by accessing detailed technical information, images, graphs and diagrams for each diagnosed vehicle. This information will help you identify the error code, part, location, etc.
EXPERT MODE
Jaltest CV offers advanced diagnostics possibilities for workshops under the Expert Mode. When this mode is active, you will be able to carry out actions that require the modification of parameters in different ECUs, such as sensor and actuator calibration, configuration of operating parameters or DPF replacement and regeneration, among others.
JALTEST GRP
Access our optimised workshop management solution. Share client information, vehicle data and diagnostics reports, work order management, repair times and much more.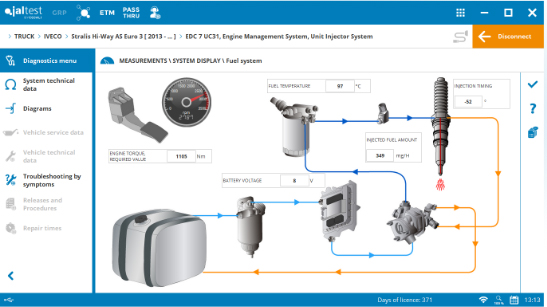 SAT MODULE
Through the specialised technical assistance module, you will be able to submit queries to our technical support centre from the Jaltest Diagnostics software itself, anytime and anywhere.
I-PARTS ASSIST
Receive additional help for the replacement and reprogramming of Cojali brand components in three easy steps.
FCA US SECURE GATEWAY
Jaltest CV allows the user to obtain permissions of authenticated diagnostics for FCA US vehicles equipped with the SGW module, which guarantees easy connection and access to all advanced diagnostics functionalities.
No customer reviews for the moment.