

MB SD Connect C6 OEM DOIP Mercedes BEZN
MB SD Connect C6 OEM DOIP Mercedes BEZN
Mercedes Benz VCI DoIP C6 Support Functions List:
1.Diagnosing
2.Programming
3.Smulation studying
4.Repair information
5.Automotive maintenance
6.Technical service bulletin
7.DPF Regeneration (work same as original)
Security policy

(edit with the Customer Reassurance module)

Delivery policy

(edit with the Customer Reassurance module)

Fast Delivery

(edit with the Customer Reassurance module)
MB SD Connect C6 OEM DOIP Mercedes BEZN
MB SD Connect C6 Benz Mercedes BEZN C6 Xentry diagnosis VCI OEM DOIP Xentry Diagnosis tool with V2022.06 Software

Notice:

This Mercedes Benz Xentry diagnosis VCI DOIP Pass thur interface C6 can't support All Key Lost,needs one key at least.

Note:The C6 Software is different with C4 ,C5 Software ,If you don't have C6 software,pls choose configuration 2 or 3 with software.

Mercedes Benz C6 OEM Xentry diagnosis VCI DOIP Pass thur interfac is the latest interface for For Mercedes & SMART vehicles can replace Star C4/C5. XENTRY Diagnosis VCI acts as a Pass-through Interface, also called MB Star C6, For Benz C6 multiplexer to provide complete communication between a vehicle and the XENTRY software loaded on a PC.

Mercedes Benz Xentry diagnosis VCI DOIP Pass thur interface Benz C6 Overview:
Compatible Software: VXDIAG For XENTRY/Das Software
Support Vehicle: Mercede For Benz & Smart vehicles
DoIP: Support DoIP
Functions: Star Diagnostic & programming (SCN Coding)

MB Star C6 Software Description:
1.DAS / Xentry 2022.06
2.WIS net 2019.07
3.EPC net 2018.12: Electronic Parts Catalog
4.ST Finder 2016: optional: a Part location finder
5.SDmedia 2015.01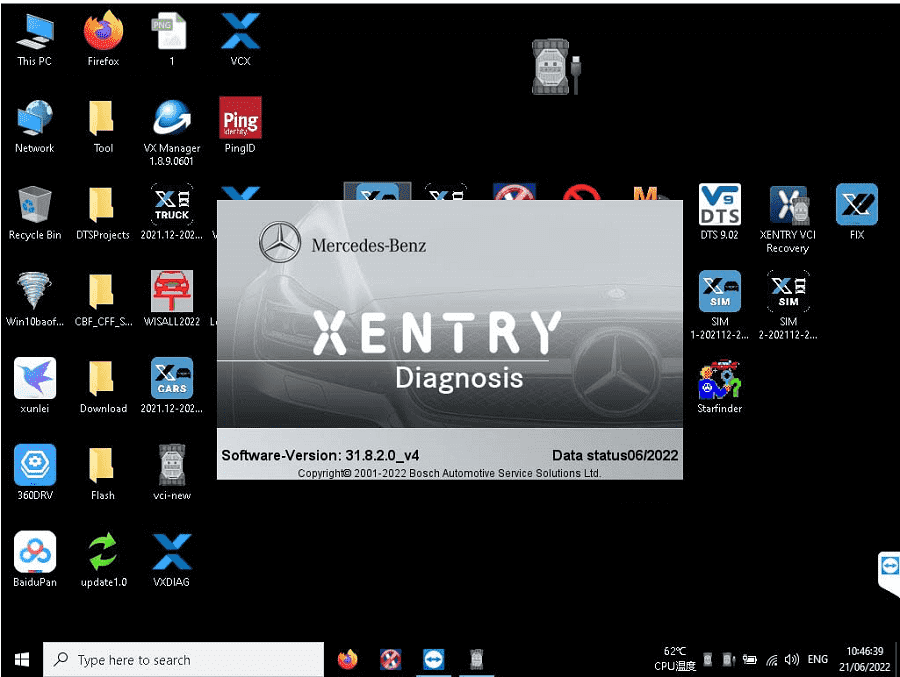 Support DoIP
WiFi Password for BENZ C6 : 12345678
Support Vehicle: Mercede For Benz & Smart vehicles
Functions: Star Diagnostic & programming (SCN Coding)

Notice :
Please install the 500GB HDD on laptop above 4GB Memory and I5 CPU, and use it on one laptop only. If change laptop, software may get broken and need to ship HDD back to us to copy software again.
ThisMercedes Benz Xentry diagnosis VCI DOIP Pass thur interface C6 can/'t support All Key Lost,needs one key at least.

What is DOIP
DOIP is ISO 13400 diagnostic protocol
ISO 13400-1:2011 describes the general use cases and communication scenarios which are covered by an Internet Protocol-based vehicle communication standard. Each use case drives specific communication capabilities of the vehicle communication interface, for instance in order to be interoperable in an existing computer network.
The diagnostic communication over Internet Protocol (DoIP) protocol supports the standardized service primitive interface as specified in ISO 14229-2.
The descriptions in ISO 13400-1:2011 cover different application layer implementations, such as:
enhanced vehicle diagnostics (system diagnostics beyond legislated functionality, non-emissions-related system diagnostics);
WWH-OBD (World-Wide Harmonized On-Board Diagnostics) as specified in ISO 27145-2 and ISO 27145-3.
The mercedes Land Rover JLR all use this new Diagnostic Protocol now.

Where need DOIP device
when we test mercedes new car like w222 w205
In Audio\Comand section you can find DoIP test page.
If cable is DoIP you will see green mark that DEVICE is Ok.
Xentry will prompt you that other device must carry yellow marks.

Mercedes Benz VCI DoIP C6 Support Functions List:
1.Diagnosing
2.Programming
3.Smulation studying
4.Repair information
5.Automotive maintenance
6.Technical service bulletin
7.DPF Regeneration (work same as original)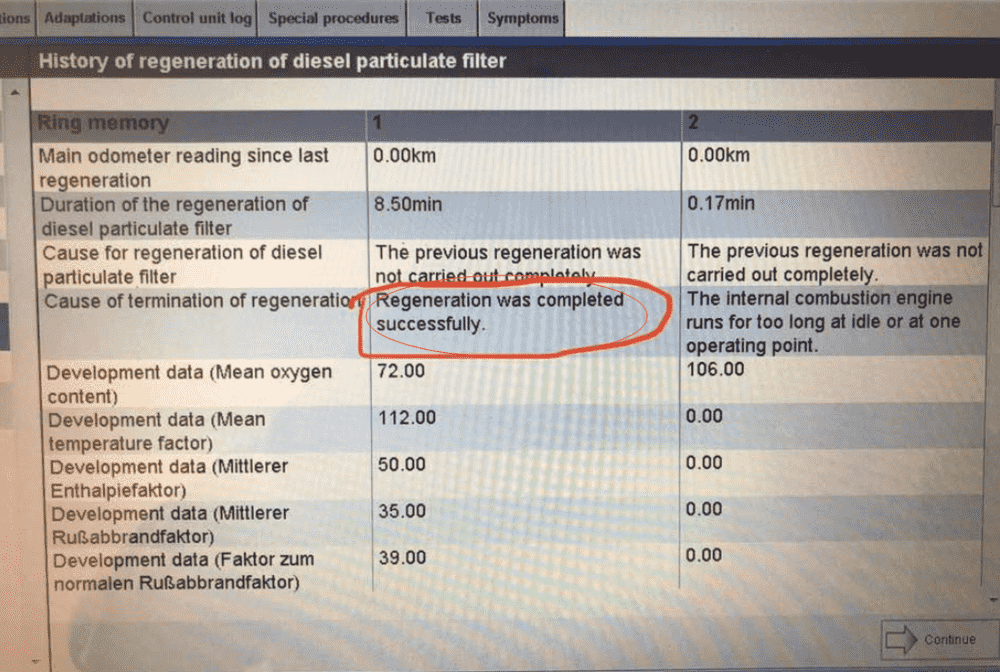 DPF Regeneration menu lets you perform the DPF cleaning to clear the blockage through continuous burning of the particulates captured in the DPF filter. Which will avoid the filter being blocked by ash, then the owner has to replace the new diesel particulate filter (worth 1000usd -200usd)

Mercedes Benz Xentry diagnosis VCI DOIP Pass thur interface C6 Features:
Can be used for all model series of For Mercedes For Benz vehicles
Support DoIP, cover more functions during SCN Coding than SD C4/C5
Functions including diagnosing, programming, simulation studying, repair information, automotive maintenance, technical service bulletin and so on
Diagnosis updates no longer necessary – firmware updates required on rare occasions
Does not need a power supply unit for external power supply
Dandy multiplexer with a small, sturdy construction (no PC core, battery, fan, or display)
Engines (All Gasoline & Diesel Systems)
Transmissions and Electronic Selector Modules
Airmatic and Active Body Control Suspension Systems
Traction Systems: ESP / ASR / ETS / ABS / BAS / SBC braking systems
Supplementary Restraint Systems (SRS) / Airbag, All body modules OCP / UCP / LCP / SCM / SKF / KFB / RCM / DCM's
Drive Authorisation System
Sam (Signal Acquisition) Modules
Electronic Ignition System (EIS)
Pneumatic System Equipment and ATA functions
Air Conditioning / climate control Systems
Instrument Cluster
Tyre Pressure Control
Parktronic System
Keyless Go
D2b Command & Audio Gateway (D2B and MOST networks)
TV Tuner
Headlamp Range Adjustment
Seat Electronics
Rvc, RST & Vario Roof modules
Automatic Clutch System ACS
M-Class Body Modules (AAM / EAM / DAS / SEM / VG Transfer Case)
Assyst & ASSYST + systems

Mercedes Benz Xentry diagnosis VCI DOIP Pass thur interface C6 Summary:
Mercedes Benz Xentry diagnosis VCI DOIP Pass thur interface C6 (Vehicle Communication Interface) multiplexer serves as the interface to the vehicle when performing diagnosis and repairs, and programming electric and electronic on-board vehicle systems.

The Mercedes Benz Xentry diagnosis VCI DOIP Pass thur interface C6 does not have its own PC core, battery, fan, or display. It is operated using the VXDIAG For XENTRY Diagnosis Pad via WLAN or a USB cable connection.

What is DOIP?
DOIP is ISO 13400 diagnostic protocol

ISO 13400-1:2011 describes the general use cases and communication scenarios which are covered by an Internet Protocol-based vehicle communication standard. Each use case drives specific communication capabilities of the vehicle communication interface, for instance in order to be interoperable in an existing computer network.

The diagnostic communication over Internet Protocol (DoIP) protocol supports the standardized service primitive interface as specified in ISO 14229-2.

The descriptions in ISO 13400-1:2011 cover different application layer implementations, such as:
enhanced vehicle diagnostics (system diagnostics beyond legislated functionality, non-emissions-related system diagnostics);

WWH-OBD (World-Wide Harmonized On-Board Diagnostics) as specified in ISO 27145-2 and ISO 27145-3.

The mercedes Land Rover JLR all use this new Diagnostic Protocol now.

Where do you need DOIP device?
When we test mercedes new car like w222 w205

In Audio\Comand section you can find DoIP test page.

If cable is DoIP you will see green mark that DEVICE is Ok.

Xentry will prompt you that other device must carry yellow marks.



No customer reviews for the moment.