

Last items in stock
OBDSTAR D800 B Diagnostic Tool for Marine ( Jet Ski / Outboard )
OBDSTAR D800 B Diagnostic Tool Advanced Function

1. The OBDSTAR mobile APP integrates functions such as diag socket location, flash code query, technical bulletin, manual service function(service lamp reset), basic parameters, etc., working with D800 to make marine diagnosis more accurately and efficiently (some functions are only available for D800 users to check for free);

2. The exclusive interactive wiring diagram and electrical appliance description query function make your diagnosis worry-free;

3. Various data flow display modes such as text, waveform diagram and instrument diagram allow you to easily analyse faults;
Security policy

(edit with the Customer Reassurance module)

Delivery policy

(edit with the Customer Reassurance module)

Fast Delivery

(edit with the Customer Reassurance module)
OBDSTAR D800 B Diagnostic Tool for Marine ( Jet Ski / Outboard )
OBDSTAR D800 B Diagnostic Tool Specs:
Manufacturer: OBDSTAR
Condition: New


Please check the Supported list before buying:
OBDSTAR D800 B Supported List (2023-08-31)
OBDSTAR D800 B User Manual

D800 B is OBDSTAR's new generation device for marine (jet ski/ outboard) intelligent diagnosis.

Based on Samsung Exynos processor, it is equipped with an 8-inch display screen, which is extremely fast and smooth.

D800 B adopts the latest 3.0 APK platform and has shortcut functions such as auto-identification, intelligent retrieval, and one-click feedback. The equipment, with its fast upgrade performace and built-in help materials, is a good helper for marine maintenance engineers!




OBDSTAR D800 B Diagnostic Tool Features

1. New android 5.1.1 operation system;
2. Simple and intuitive menu guidance allows you to quickly master the equipment operation;
3. Provide complete diagnostic functions including ECU information, code reading, code clearing, data flow, freeze frames, action test, setting, coding etc;
4. Record and play back real-time flow, quickly and accurately locate sensor and component faults;
5. Wi-Fi connection to the internet, one-click software upgrade;
6. One-click remote function, OBDSTAR technical staff remote assistance.
7. Language: English only.



OBDSTAR D800 B Diagnostic Tool Advanced Function

1. The OBDSTAR mobile APP integrates functions such as diag socket location, flash code query, technical bulletin, manual service function(service lamp reset), basic parameters, etc., working with D800 to make marine diagnosis more accurately and efficiently (some functions are only available for D800 users to check for free);

2. The exclusive interactive wiring diagram and electrical appliance description query function make your diagnosis worry-free;

3. Various data flow display modes such as text, waveform diagram and instrument diagram allow you to easily analyse faults;

4. Auto Scan, Active Trim Configuraion, Active Trim GPS Configuraion, Auxiliary Joystick Congfiguration, BCM Simulator, Compass Congfiguration, Device Initialization, Drive Alignment, Helm Setup, Instance Setting, Maintenance Setting, Merc TDS Reset, Remote Control Reset, Set Engine Location, Set Tach Link, Set Tilt Limit, SMUX Congfiguration, Steeing Wheel Centering, Syetem Calibration, Torque Ajustment, Trackpad Configuration, Vessel Personality, and other functions.


OBDSTAR D800 B Diagnostic Tool Supported Brands:

EVINRUDE, HONDA, JOHNSON, KAWASAKI, MARINER, MERCURY/MERCURY RACING, PARSUN, SEA-DOO(BRP), SELVA MARINE, SEVEN MARINE, SUZUKI, TOHATSU, YAMAHA...



Optional Brands

CATERPILLAR, CFMOTO, CRUSADER ENGINES, CUMMINS MARINE, CUMMINS MERCRUISER DIESEL, DAEDONG, DAF MARINE, FNM MARINE, FORD MARINE, FPT (Fiat Powertrain Technologies), HYUNDAI SEASALL, ILMOR, INDMAR, JOHN DEERE MARINE, KODIAK MARINE, KOHLER POWER SYSTEMS, LOMBARDINI MARINE, MAN MARINE, MARINE POWER, MTU, PANTHER AIRBOATS, PCM Marine Engines, PERKINS, SCANIA MARINE, SISU, STEYR MOTORS, TOYOTA MARINE, VM MOTORI, VOLKSWAGEN MARINE, VOLVO PENTA, YANMAR...


Comparison between D800 A & D800 B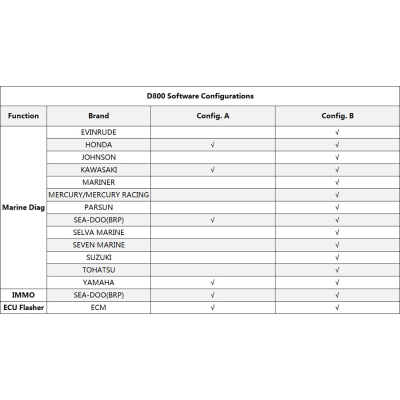 OBDSTAR D800 B Diagnostic Tool Specifications:
| | |
| --- | --- |
| Operation system | Android 5.1.1 |
| CPU | Exynos4418 qual core ARM cortex A9 |
| Battery | 3700mA, rechargeable polymer lithium battery |
| Extension memory card | 32G micro SD (TF) card supported |
| Storage capacity | 32GB |
| LCD | 8.0 inch |
| LCD resolution | 1280*800 |
| Touch screen | Capacitive touch screen |
| Wifi | Supported |
| Camera | 5 mega rear view camera |
| Working temperature | -10℃~55℃ (14℉~131℉) |
| Storage temperature | -20℃~70℃ (-4℉~158℉) |
| Weight | 1kg (main unit) |
| Dimension | 254mm*174mm*35mm |
OBDSTAR D800 B Diagnostic Tool Package Includes:

1pc x M001A main cable
1pc x M002 power cable
1pc x M003A Multi-functional jumper
1pc x M015A Honda
1pc x M021A Parsun
1pc x M043 BRP
1pc x M060 Mercury
1pc x M061 Yamaha
1pc x M062 Suzuki
1pc x M064 Mercury
1pc x M065 Evinrude
1pc x M068 Kawasaki
1pc x M070 Tohatsu
1pc x M071 Tohatsu
1pc x 12V2A charger
No customer reviews for the moment.